Level Select
Edit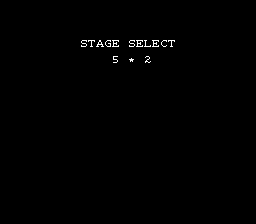 The Game Genie code SKKLUKXT enables an input code to access a level select. On the screen to select the amount of players who will play (1 Player, 2 Players), enter the following code:
Right, Left, Down, Up, B, A
If done correctly, you will hear a tone. Choose your character as normal and you can pick every level in the game, except for 6-3, curiously. Note that 6-3 can be selected, but it will not bring you there. The controls are as follows:
Hold B, then press Up or Down to change the world number.
Hold A, then press Up or Down to change the stage number.
Start leaves the screen and takes you to the desired level.

(Credit: CaH4e3)
Ad blocker interference detected!
Wikia is a free-to-use site that makes money from advertising. We have a modified experience for viewers using ad blockers

Wikia is not accessible if you've made further modifications. Remove the custom ad blocker rule(s) and the page will load as expected.